Peace and Security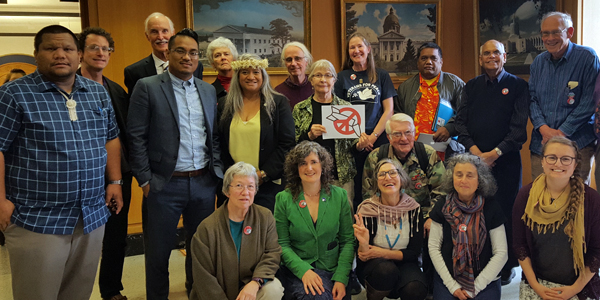 Oregon PSR disarmament resolution wins in the state legislature
On June 24, Oregon's House of Representatives voted to approve Senate Joint Memorial 5 (SJM 5), which urges congress to lead a global effort to reduce the threat of nuclear war, making it the second state in the nation after California to pass such legislation in both legislative chambers. The bill was approved by the Oregon Senate on May 20th.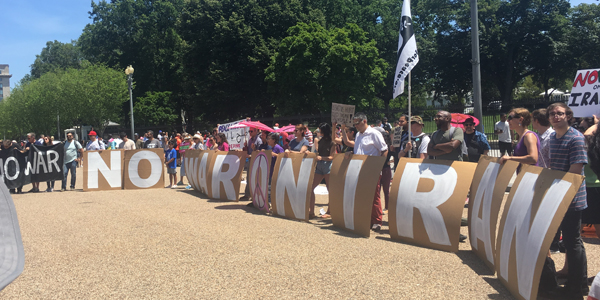 Iran: Can we find an offramp?
The members of Congress that represent you can take action to slow the slide toward war with Iran. On April 4, Senator Tom Udall (D-NM) introduced S. 1039, Prevention of Unconstitutional War with Iran Act of 2019, and on April 24, Rep. Anna Eshoo (D-CA) introduced a companion bill in the House, H.R. 2354. Congress will go on Independence Day recess this Friday, June 28. Please get in touch with the local offices for your U.S. representative and senators and urge them to cosponsor these bills.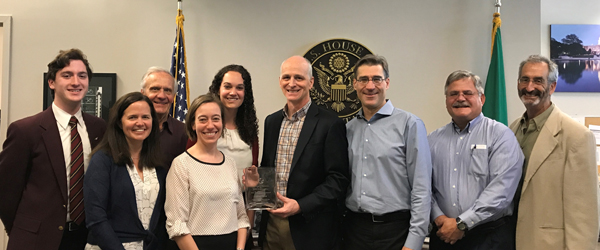 With support from PSR, House of Representatives votes to stop new nuclear weapons in Trump's budget
The United States House of Representatives is refusing to fund new nuclear weapons in President Trump's budget. Following on the heels of its announcement that the U.S. would unilaterally withdraw from the Intermediate Range Nuclear Forces treaty, the Trump administration introduced a budget that included development of several new nuclear weapons. These included cruise missiles that had been prohibited by the INF and a new, submarine-launched "low yield" nuclear weapon that would lower the threshold for nuclear war. Thanks to YOUR contact with U.S. representatives, and with leadership from House Armed Services Committee chair Adam Smith of Washington State (pictured with Washington PSR members) and several other committee and subcommittee chairs, the House of Representatives has "zeroed out" funding for all of these weapons from its Appropriations bill. Congratulations! What comes next?
Environment & Health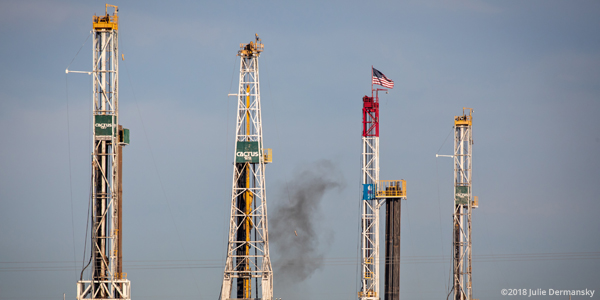 PSR Co-Releases New Fracking "Compendium"
PSR is proud to co-release the latest version of the fracking "Compendium"—brief abstracts and electronic links to an almost encyclopedic compilation of reports, peer-reviewed articles and investigative reporting on fracking's dangerous impacts on health. It covers topics including water contamination, air pollution, earthquakes, climate change and more. PSR partnered with Concerned Health Professionals of New York to prepare and roll out this volume, which provides evidence that fracking for oil and gas hastens climate change and that fracking, fracking infrastructure and the disposal of fracking waste damage public health. You can access this valuable resource here.

PSR Webinar: Fighting Climate Change Locally through Public-Private Partnerships: The 2030 District Network
As the federal government continues its failure to address the global climate crisis, innovative public-private partnerships such as the 2030 District Network are doing important work to fight climate change with local communities and businesses. Learn more about the 2030 Districts and their efforts with guest speaker Peter Dobrovolny and our very own Barbara Warren, Executive Director of PSR Arizona, at this PSR webinar tonight (June 25th) at 8pm ET.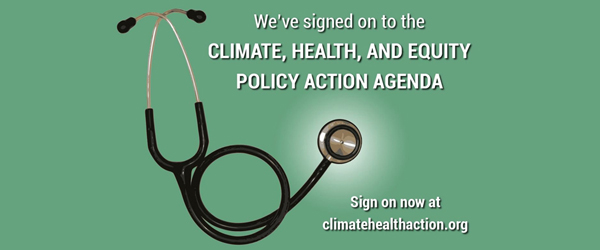 PSR, Allies Release "Call to Action on Climate, Health and Equity"
PSR and 73 other health and medical organizations released a declaration that climate change constitutes a public health emergency and requires changes in practice and policy across all sectors.
The Call to Action on Climate, Health, and Equity: A Policy Action Agenda calls climate change "the greatest public health challenge of the twenty-first century," but notes that action to reduce climate change can dramatically improve health.
It calls for a range of actions, including transitioning rapidly from coal, oil and gas and supporting a just transition for workers and communities harmed by climate change or by the energy transition.
The Call was initiated by Linda Rudolph, MD. Dr. Rudolph joined the PSR board in May. PSR was one of a number of health organizations that helped draft the Call.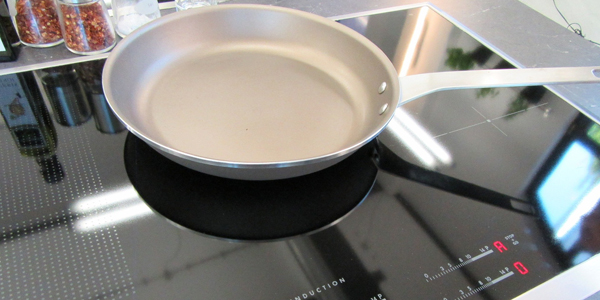 Grant will fund work to replace methane with efficient electrification
PSR has received a grant from the Energy Foundation to bring the health voice into the growing national movement to replace gas-burning furnaces and stoves with high-efficiency electric heat pumps and induction cooktops. This movement touches on two focus areas in PSR's Environment and Health program: promoting clean, safe renewable energy and energy efficiency, and reducing and eventually eliminating the use of methane gas as a major energy source in the U.S. The grant will provide pass-through grants to four PSR chapters to conduct much of this work: Los Angeles, Philadelphia, Boston, and the Colorado Working Group.

Lower Your Energy Use and Protect the Climate with "My Green Doctor"
My Green Doctor is PSR's free practice management service for your office to "go green" and save money. This month use My Green Doctor to learn how your office can reduce overhead costs & air pollution by lowering energy use. The program adds just five minutes to each office staff meeting. There are also free waiting room brochures on the site for your office to use that tell your patients & their families how they can save energy and protect our climate. Start using this free PSR membership benefit by asking your practice manager to register at www.MyGreenDoctor.org.
PSR Staff
Meet PSR's Summer 2019 Interns!
PSR is delighted to welcome four new interns for summer 2019, all of whom bring a wide range of perspectives, experiences, and skills to advance the critical missions of our Environment and Health Program and our Nuclear Weapons Abolition Program.