Diversity, Equity and Inclusion
At Sabin, we believe in elevating the research of partners in low- and middle-income countries (LMICs) and look forward to using this space to highlight important topics related to diversity, equity and inclusion (DEI) in global health, the research workforce and immunization research and programing.
One of the aims of Sabin's Social and Behavioral Research Grants Program is to address the inequities in representation within the global health research workforce through grantmaking to LMIC-based researchers in support of locally grounded research aims, objectives and questions; and the design, piloting and evaluation of evidence-based interventions. Yet there remains plenty of room for improvement in building equity in the health research workforce in both high-income countries and LMICs, particularly through expanded opportunities for women, transgender and gender non-conforming researchers. To that end, and in celebration of Women's History Month and its International Women's Day (March 8, 2022), we want to highlight a co-Investigator in our current Grants Program cycle who is working toward equity in both the research workforce and in her community.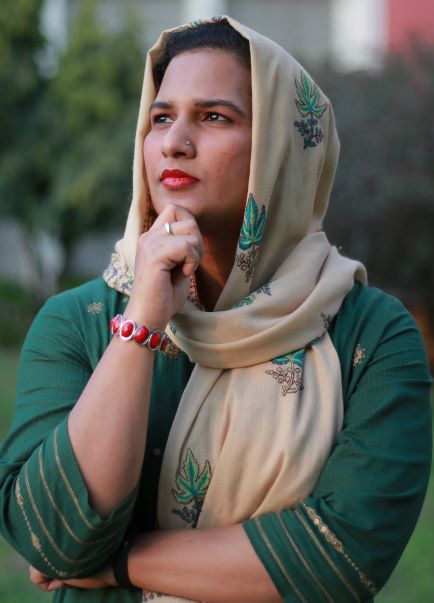 Meet Dr. Aqsa Shaikh, MBBS, MD, an investigator for one of Sabin's 2021 Social and Behavioral Research Grants Program projects, entitled, Structural Inequities in COVID-19 Vaccine Access and Uptake Among Transgender and Disability Communities in India: A Qualitative Study through Intersectionality Lens. Dr. Shaikh is an associate professor of community medicine at Hamdard Institute of Medical Science & Research (HIMSR) in New Delhi, India, and the nodal officer for the HIMSR COVID-19 Vaccination Centre. She is also the founder and director of a non-governmental organization (NGO) called Human Solidarity Foundation and a co-PI for Sangath's Transcare COVID-19 Project to study access to health care for the transgender community during the pandemic. She was a co-investigator for Indian clinical trials of the Sputnik V vaccine. As a transwoman, Dr. Shaikh is a key activist in India, having several affiliations with community-based organizations and government bodies, and is vocal about the inequitable access to COVID-19 vaccines in the transgender community. She was recently featured in the Calendar by the Life of Science which features 48 successful Indian women, transgender and non-binary persons working in various fields of science.
Join us for a Q&A with Dr. Shaikh
What has been your experience of being a transgender woman in the research space?
People's prejudices about us as transgender persons travel faster to their mind than our words and works. As a transgender researcher, I have been often judged as incompetent for conducting research in a world of researchers dominated by cisgender heterosexual men. It is a daily task to encounter and break these biases and prove ourselves.
I have also had some amazing positive experiences as a transgender person working in the team I am currently working with, which consists of people from various marginalized identities and allyships. I feel heard and valued. Also, it's a humble learning experience to interact and learn from the lives of underprivileged transgender communities in India whose lived realities are much different from mine.
How have you seen gender inequities in leadership impact COVID-19 vaccine acceptance?
The Covid-19 Vaccine Communication in India was driven by the prime minister, health minister, an iconic Indian film industry actor, heads of India's medical organizations, all of whom are cisgender heterosexual males. For a very long period of time since vaccine introduction, women and trans folks were systematically excluded especially with concerns around safety of the vaccines in pregnancy and lactation. It took a long time to cover the gender gap in vaccination of women and trans folks.
What do International Women's Day and Women's History Month mean to you?
Commemorations like International Women's Day and Women's History Month are a time to celebrate the contributions and successes of women in history and current times. At the same time, it is an opportunity to audit the equity of opportunities available to women in all domains of life. It is time to question the leadership and ask for accountability and affirmative actions to correct historical wrongs. While the pandemic saw many women from top political and health leadership to frontline workers show the way, many women lost their jobs and educational opportunities. We need to accelerate our efforts to compensate for these losses and to achieve the goals for an equitable world.
Catch up with all of our grant partners in our new Meet Our Grant Partners page!